Out with the Old(er), Into a Newer Space: Seniors on the Move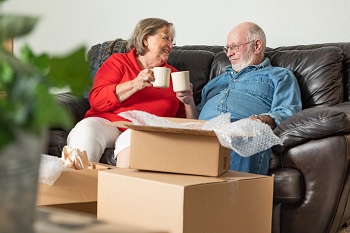 By Julie DeLong, A-1 Freeman Moving Group
America is a society on the move: more than 32 million folks moved to a new home in 2018; that number represents approximately 10% of the entire population. Senior citizens moving to new houses comprise a small but important portion of people packing up and beginning again within new communities. Relocating to Tulsa is a time of both delight and anxiety irrespective of family size and conditions but changing places can present distinctive complications for senior men and women.
8 tips on a stress-less senior moving experience
Get started planning well in advance of moving day
Numerous factors go in the evaluation of when and where to move: well-being, the need for a change of scenery or type of housing, cost of living, the ability to travel or perhaps the desire to be much closer (or a greater distance away from) relatives along with close friends. A selection of a new residence encompasses availability to retail stores, health services, transportation, entertainment, and cultural centers. Research places of interest. Take a look at current local weather patterns, infrastructure, local government, as well as public amenities within the assessment. Quite a few community newspapers are on the internet, and it's beneficial reading through several days' worth to get a perception of daily living inside a possible new hometown.
Advise family members of the decision
Keep family members updated on the planning of the move. Their participation will help ease the tension as well as their suggestions, particularly from those with moving experience, is important to stay away from costly and avoidable issues.
Prioritize what the new local community may need to fit the bill
Review your present neighborhood to those under consideration. What do you cherish about where you live at this moment? What needs betterment? Then write a pro vs. con list. Are there factors you really like so much that you would spend more to have them? Are there items you just cannot live with, irrespective of how much you like the rest concerning the location? There isn't a perfect place, but some are wonderful; the bottom line is picking out the one that balances best with your senior lifestyle.
Get acquainted with the new community with a visit and/or rental first
Prior to deciding to put all your hard earned money into a house or condominium or put down 2 months' security deposit, do a short-term lease, a vacation or visit close by with friends and do a trial run of a new area. Stay a little bit, walk, shop, dine, and meet the people, understand the social norms and politics, and learn what it truly costs to live there.
Declutter, donate, recycle, sell
You've made the choice to move on, now clean out before you pack up. Declutter and give away, sell off, or recycle anything you don't need, want, or won't fit in the new location. Through doing this, your professional moving company in Tulsa will likely have significantly less to move, which will decrease your overall cost to move.
Repair it, wash it, paint it, or live with it: repairs vs. renovations
Make decisions regarding what to fix or upgrade as you get your old house all set to sell or get ready to move out of your apartment. Simple fixes are usually things such as holes from the pictures about the wall surfaces need to be filled in, scratched wall surfaces painted, baseboards washed, the refrigerator wiped clean, and also the range scrubbed. Major renovations could lead to a better resale on the home, but some remodels could backfire should they be outdated by modern purchasers' specifications or so pricey you never recoup the price.
Self-pack vs assistance to pack: lifting, loading, and allowing someone else to get it done
Know your limits and keep your lists accessible. Getting hurt when packing up is not a way to begin a new life. The lists will allow you to recollect the quantity of boxes you have and what is loaded in each one, so you will not place kitchenware in the bathroom when reaching your new home. Honor your body's capability to work numerous hours carrying and labeling countless cardboard boxes and grant yourself the help of a professional moving company in Tulsa.
The part of the professional movers
Being a professional residential mover, A-1 Freeman Moving Group in Tulsa is here to assist you in getting from where you are to where you want to be, in a safe manner as well as effortlessly. We specialize in the senior moving experience and our almost half-century in the industry assures that whatever move you're making, should it be to a smaller home, retirement community or an international venue will incorporate mindful packing and unloading, delivery tracking, home furnishings and appliance set up, and protection of flooring surfaces, wall space, banisters, and furnishings. Call us to get a no cost quote and we'll move you down the road to your future new home.
Request a free quote